Friends of Cheyenne Mountain State Park
OUR MISSION:  "Support and Advocate for Cheyenne  Mountain State Park"
Friends of CMSP and CMSP are hosting its First Annual Photo Contest. If you have taken a picture in the last year (last 12 months) of Colorado's beauty or wildlife, and are excited to share it, we want to see it!  We are looking for photos in three categories: Landscape, Native Wildlife and Birds, in both adult and youth (14 and under) divisions. You still have time to hit the trails and take a photo because entries can be made up until August 10th at 5:00pm. Winners will be awarded in each category and age group. The photos entered will then be displayed in our visitor center's art gallery from August 15th to September 1st.   For details and entry forms, go to: http://cpw.state.co.us/placestogo/Parks/cheyennemountain or stop by the visitor's center for rules and entry forms.  

Click flyer to enlarge.
A full list of activities can be viewed by clicking on the "Events Schedule" above.
                                    OUR VISION STATEMENT
"The Friends of Cheyenne Mountain State Park serve to protect, enhance and preserve for all time the natural state and spectacular beauty of the park. We are also dedicated to working in partnership with the park staff to promote recreational and educational activities as well as advocating for important park issues."
                                           WHO WE ARE
The Friends of Cheyenne Mountain State Park was formed in 2001, and became a State non-profit organization and Federal 501(c (3) in 2002.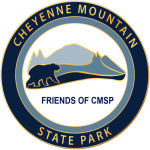 Click Here for Directions to the Park
410 JL Ranch Heights, Colorado Springs, CO  80926
The National Environmental Education Foundation and the Toyota Corporation provided funds with a recent grant to help upgrade this web-site.