New and Exciting project coming to CMSP
"Project Plaza & Friends Forever Wall"
Rendering of Plaza Project above by Randy Burkholder 2021 (details subject to change)
Our goal is to raise $15,000 to help build this project. Project Plaza will include an expansion of the outdoor area west of the Visitor Center, providing a larger area for gatherings and program presentations.
Donors to this project will be recognized as follows:
All donors of $249.00 or less:
– Members Newsletter 
– Tribute Roster on the Friends of CMSP website
All donors of $250.00 or more will be recognized as follows:
– Donor Recognition Plaque 
– Members Newsletter 
– Tribute Roster on the Friends of CMSP website
Categories of recognition will be as follows:
American Kestrel:      $250 to $499
Prairie Falcon:            $500 to $999
Red-Tailed Hawk       $1,000 to $2,499
Great Horned Owl:     $2,500 to $4,999
Golden Eagle:              $5,000+
All gifts to the Friends of Cheyenne Mountain State Park are tax deductible to the fullest extent allowed by law.
Construction is underway and the Friends will continue to raise funds for this project until it is completed. Donors will be recognized during a Ribbon Cutting Ceremony and Recognition Event.
If you wish to donate to the project, please click on the Join/Support tab above. Or mail your check to:  Friends of CMSP, 410 JL Ranch Heights, Colorado Springs, CO 80926. Please indicate the funds are intended for Project Plaza.  On your next visit to CMSP, you can also leave your check at the front desk.   
The Friends are very excited to see this long talked about project begin to come to fruition and as always appreciates your support of our mission to support and advocate for Cheyenne Mountain State Park.
We are sincerely Thankful to the following donors as of Jan 2022:
American Kestrel:  Rafael Jimenez
Prairie Falcon: The Cooper Family, Jim Voige-Cheyenne Propagation Company     
Red-Tailed Hawk:       
Great Horned Owl:
Golden Eagle: The Dorthy and Brian Kern Family
Other Donors: Lynn Otto
Save the date: October 8, 2022
The Cheyenne Mountain Run
25K, 10K & 5K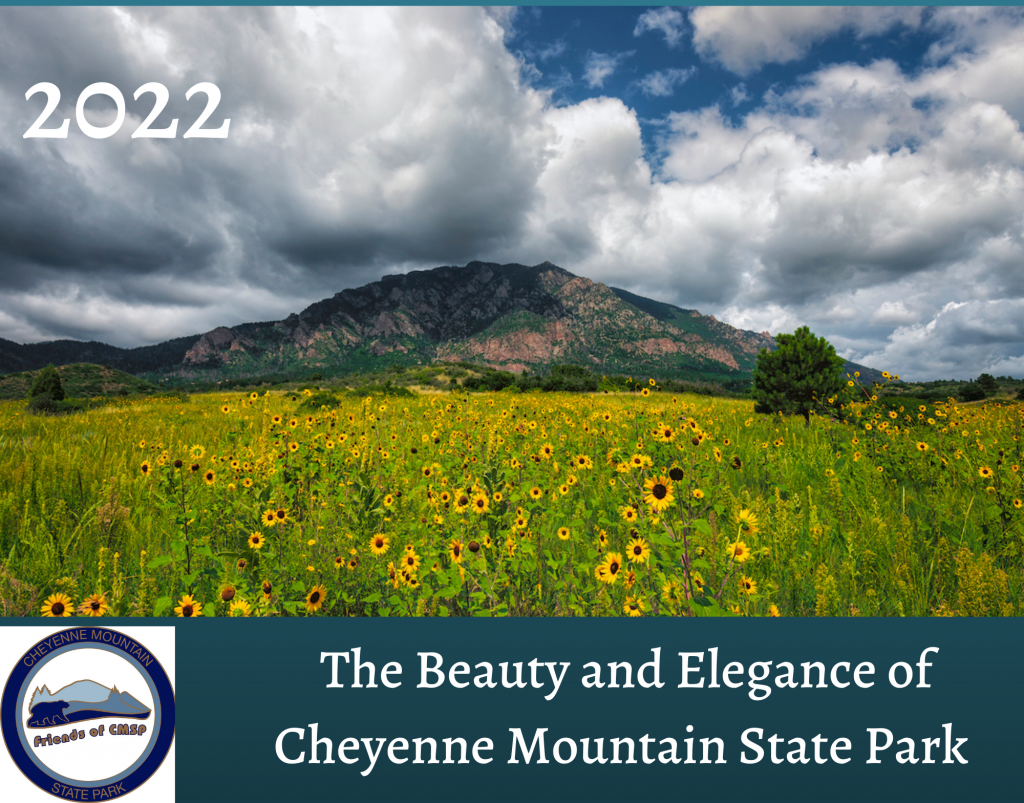 2022 Calendars are available in the Visitor Center.
Winter hours 9 am to 4 pm daily
Interested in how Trail names were selected?
Click on this link: History of Trail Names
2021 Hike or Bike Challenge
Details in the Visitor Center
Complete all 18 of CMSP trails and log 22 miles! (Dixon Trail not included) Not challenging enough? Take the 100 Mile Challenge!
This is an ongoing program that started Jan 1st, 2018 and will continue through 2021. Prizes awarded for each challenge. Pick up your form at the Visitor Center. (Visitor Center Winter hours: 9 A to 4 P everyday)
WHO WE ARE
The Friends of CMSP were organized in 2001 and became a non-profit organization and a Federal 501 (c) 3 in 2002.
OUR MISSION:
"Support and Advocate for Cheyenne Mountain State Park"
OUR VISION STATEMENT:
"The Friends of Cheyenne Mountain State Park serve to protect, enhance and preserve for all time the natural state and spectacular beauty of the park. We are also dedicated to working in partnership with the park staff to promote recreational and educational activities as well as advocating for important park issues."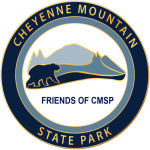 Map of Cheyenne Mountain State Park
410 JL Ranch Heights, Colorado Springs, CO 80926
Click Here for Directions to the Park

The Friends are 2020 recipients of a grant from ExtremeTerrain Clean Trail initiative. We are extremely grateful for this oppurnity that will continue to help fund both our Trail Dogs and Fire and Wood Mitigation volunteer crews. If you would like more information about helping with one of these teams, please contact Jack Busher at co.jbusher@gmail.com for Trail Dogs or Ralph Cadwallader at rcadwallad@aol.com for Timber Tigers. The schedules are listed on under "Volunteer for the Park" tab.

For more information about the ExtremeTerrain Clean Trail program, please go to ExtremeTerrain Clean Trail Program.
When you shop, Amazon donates to:
Support Friends of CMSP