Thank you to those who participated in our first ever Christmas Tree Sales and Tree Recycle program. We will be back Dec 2023.
L-Pile of trees collected to be recycled, R-Volunteers selling trees. Both projects lead by Board Member Ralph Cadwallader
Our goal was to raise $15,000 to help build this project. Project Plaza will include an expansion of the outdoor area west of the Visitor Center, providing a larger area for gatherings and program presentations. The plan is to finish building the Wall portion of the project Spring of 2023. At that time, we will roll out the Friends Forever Wall opportunities.

We are sincerely Thankful to the following donors as of Jan 2023:
Golden Eagle: The Dorthy and Brian Kern Family, The Hobbs Family
Red-Tailed Hawk: The Cooper Family
Prairie Falcon: Jim Voige-Cheyenne Propagation Company
American Kestrel: Rafael Jimenez
Other Donors: Lynn Otto
Registration is now open!
Follow the tabs above for details!
October 7th, 2023
Saturday

The Cheyenne Mountain Run
25K, 10K & 5K

Interested in how Trail names were selected?
Click on this link: History of Trail Names
2023 Hike or Bike Challenge
Details in the Visitor Center
Complete all 18 of CMSP trails and log 22 miles! (Dixon Trail not included) Not challenging enough? Take the 100 Mile Challenge!
This is an ongoing program that started Jan 1st, 2018 and will continue through 2022. Prizes awarded for each challenge. Pick up your form at the Visitor Center. (Visitor Center Summer hours: 9 A to 5 P everyday)
WHO WE ARE
The Friends of CMSP were organized in 2001 and became a non-profit organization and a Federal 501 (c) 3 in 2002.
OUR MISSION:
"Support and Advocate for Cheyenne Mountain State Park"
OUR VISION STATEMENT:
"The Friends of Cheyenne Mountain State Park serve to protect, enhance and preserve for all time the natural state and spectacular beauty of the park. We are also dedicated to working in partnership with the park staff to promote recreational and educational activities as well as advocating for important park issues."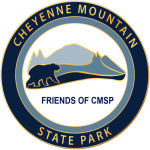 Map of Cheyenne Mountain State Park
410 JL Ranch Heights, Colorado Springs, CO 80926
Click Here for Directions to the Park


April 2022 News
We are pleased to announce The Friends of CMSP were recently awarded a $7,500 grant from the Mesara Family Foundation. Grant funds will be used to purchase seven new water bottle refill stations and a new bike repair station for Cheyenne Mountain State Park! Thank you Masara Family for your generosity and philanthropic endeavors.
The Smile Amazon donation to charities will permanently end Feb 20, 2023. Thank you Amazon for your many years of donations. If you plan to shop, please do so before Feb 20th.
Support Friends of CMSP