We are proud to be a class of 2015 Give! campaign, our first year!!  The campaign runs until December 31st, 2105. Please support us for the following needs :
♦ Trail Building Funds-(Trail to the top of Cheyenne Mountain)
♦ Camera to monitor remote park locations
♦ Taxidermy Services
♦ Bear-proof trash and recycling containers
♦ Educations programs for all ages
Please click on the blue link below:
www.indygive.com/great-outdoors/friends-of-cheyenne-mountain-state-park/
CURRENT contest that we are competing for:
1.  The Heuberger Motors Young Donor Challenge grants:
The 12 nonprofits that attract the most donations from those 18 to 36 years of age: 1st place  $3,000; 2nd place $1,500; 3rd place $1,000; 4th to 12th place $500 each
(See race results for "The Cheyenne Mountain Run" tab above)
Friends of Cheyenne Mountain State Park
OUR MISSION:  "Support and Advocate for Cheyenne  Mountain State Park"
                                    OUR VISION STATEMENT
"The Friends of Cheyenne Mountain State Park serve to protect, enhance and preserve for all time the natural state and spectacular beauty of the park. We are also dedicated to working in partnership with the park staff to promote recreational and educational activities as well as advocating for important park issues."
                                           WHO WE ARE
The Friends of Cheyenne Mountain State Park was formed in 2001, and became a State non-profit organization and Federal 501(c (3) in 2002.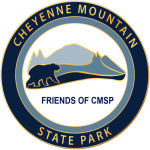 Click Here for Directions to the Park
410 JL Ranch Heights, Colorado Springs, CO  80926
The National Environmental Education Foundation and the Toyota Corporation provided funds with a recent grant to help upgrade this web-site.