Thank you for supporting us in our first Give2015! Fund Raising Event!
All funds will be used wisely to support CMSP!
Thank you Give2015! for making us part of this incredible community event!

♦ Trail Building Funds-(Trail to the top of Cheyenne Mountain)
♦ Camera to monitor remote park locations
♦ Taxidermy Services
♦ Bear-proof trash and recycling containers
♦ Educations programs for all ages
www.indygive.com/great-outdoors/friends-of-cheyenne-mountain-state-park/ (this web-site shows the results of all 88 nonprofits participating in Give2015!)
(See race results for
"The Cheyenne Mountain Run"

tab above)
Friends of Cheyenne Mountain State Park
OUR MISSION:  "Support and Advocate for Cheyenne  Mountain State Park"
                                    OUR VISION STATEMENT
"The Friends of Cheyenne Mountain State Park serve to protect, enhance and preserve for all time the natural state and spectacular beauty of the park. We are also dedicated to working in partnership with the park staff to promote recreational and educational activities as well as advocating for important park issues."
                                           WHO WE ARE
The Friends of Cheyenne Mountain State Park was formed in 2001, and became a State non-profit organization and Federal 501(c (3) in 2002.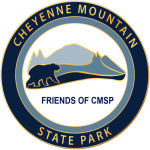 Click Here for Directions to the Park
410 JL Ranch Heights, Colorado Springs, CO  80926
The National Environmental Education Foundation and the Toyota Corporation provided funds with a recent grant to help upgrade this web-site.