President:  Abbie Burke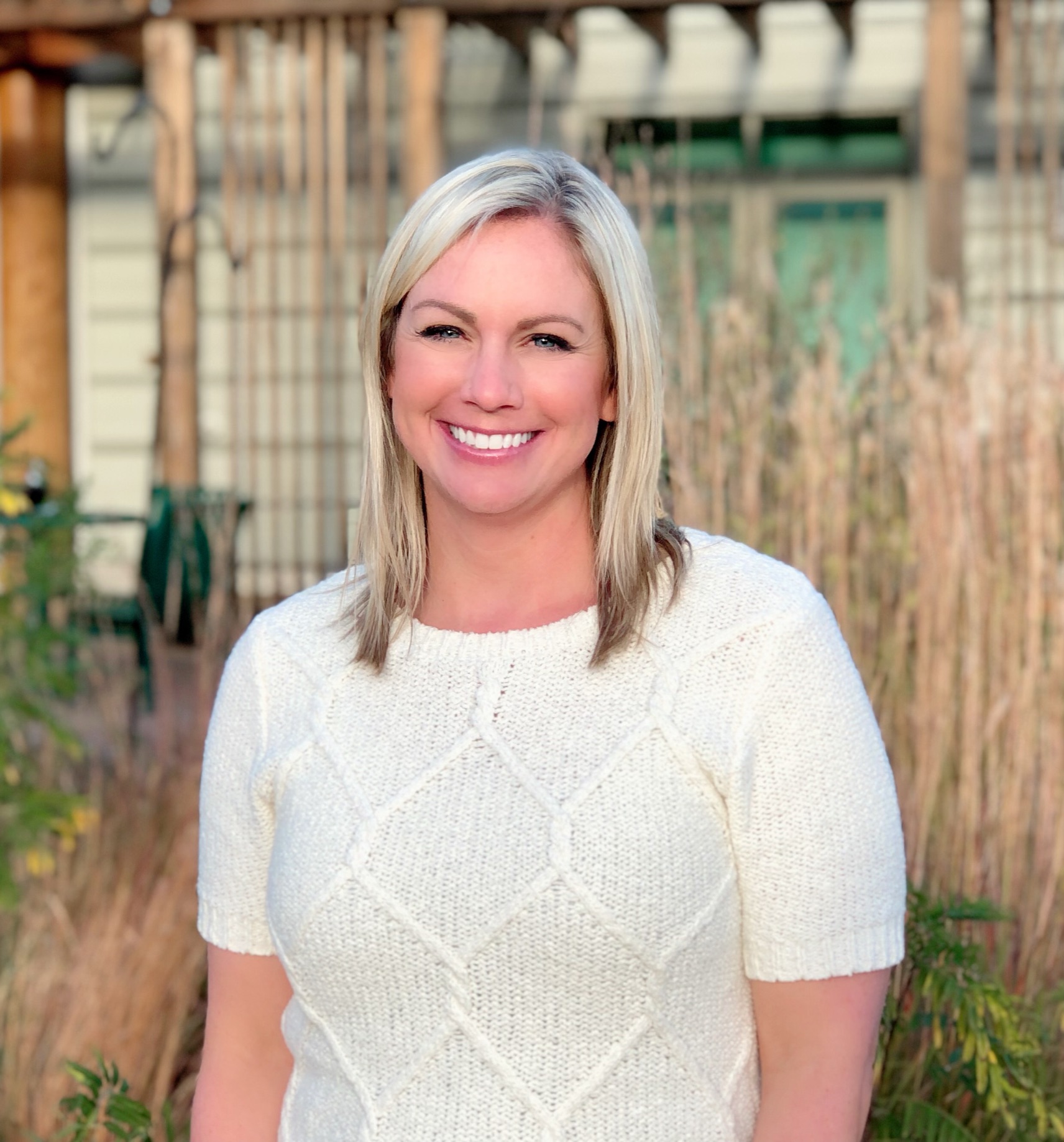 Abbie is currently the morning anchor for FOX21 Morning News weekdays from 5 a.m. to 9 a.m. While getting out of bed at 2 a.m. is sometimes difficult she loves helping southern Colorado start the day off with a smile and all the latest news and information. Originally from Pennsylvania, Abbie has lived in Colorado Springs since 2008 and quickly adapted to mountain living. She loves to hike and discovered her love for Colorado's State Parks during her time with Colorado Parks and Wildlife serving as the Public Information Officer for the southeast region. Abbie joined the Friend's Board after returning to work in the news and loves being able to continue to play a role in preserving and protecting some of Colorado's greatest assets like Cheyenne Mountain State Park.
Vice President, Past President:   Pat Cooper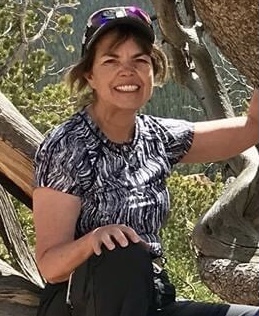 Pat retired from Banking after working in the field for 28 years: she was an Agriculture Banker for 12 years and then moved into residential Mortgage lending for 16 years.  She was raised on a Ranch in Northern NM and is a graduate of NMSU.  After retiring, she finally had the opportunity to pursue her passion for the outdoors and since has been an active Volunteer at CMSP. Her primary activities in the Park are Native Plants, Bird/Raptor Monitoring and the History Committee. Pat is an avid hiker and has been fortunate to explore many of the local trails.  
Secretary:    Lori O'Hare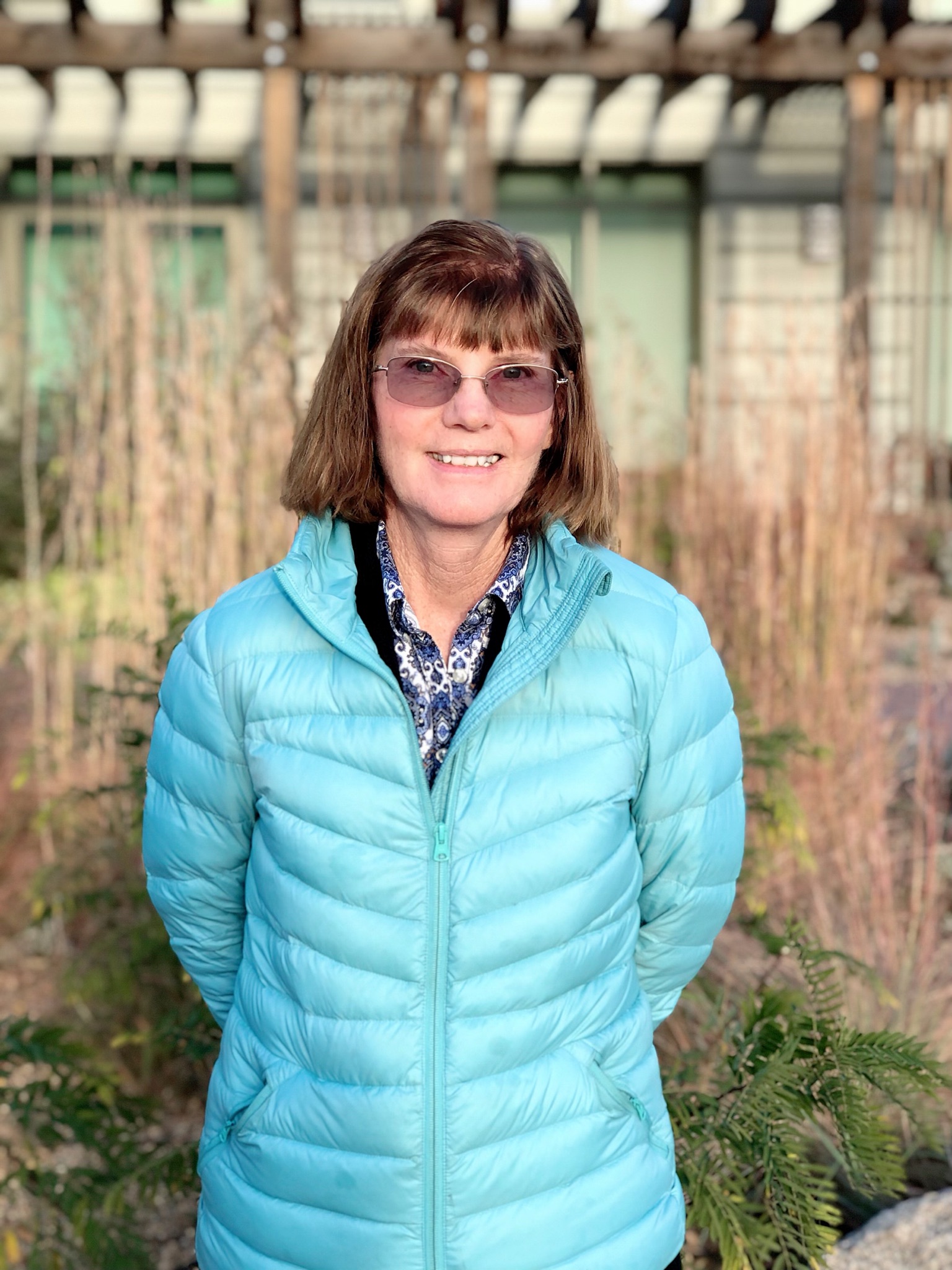 Lori is a retired School Psychologist who began volunteering for State Parks in 1998 at Castlewood Canyon State Park.   When CMSP was on the drawing board, she and her husband Jerry helped start the Friends of Cheyenne Mountain State Park in 2002.  It was exciting to see the park built from the ground up.  After serving as the Secretary for many years, she became Vice President in 2011.  She enjoys doing special events and trail hosting at the park.
Treasurer:  Lori Hawkins   (photo taken from The Cheyenne Mountain Run, Oct 8, 2022-25K)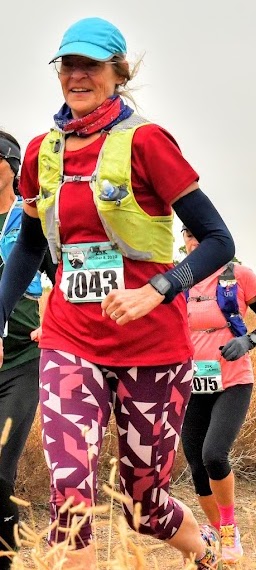 joined the Board in November 2021, but has enjoyed the park for many years. She's run the Cheyenne Mountain Run 6 times!!! Lori currently works as Accounting Supervisor at Harrison School District 2, and has served as Treasurer for Pikes Peak Road Runners, so she is well-suited to the job of Treasurer. She has lived in Colorado for 30 years and can't imagine living anywhere else!
Past President:  Jack Busher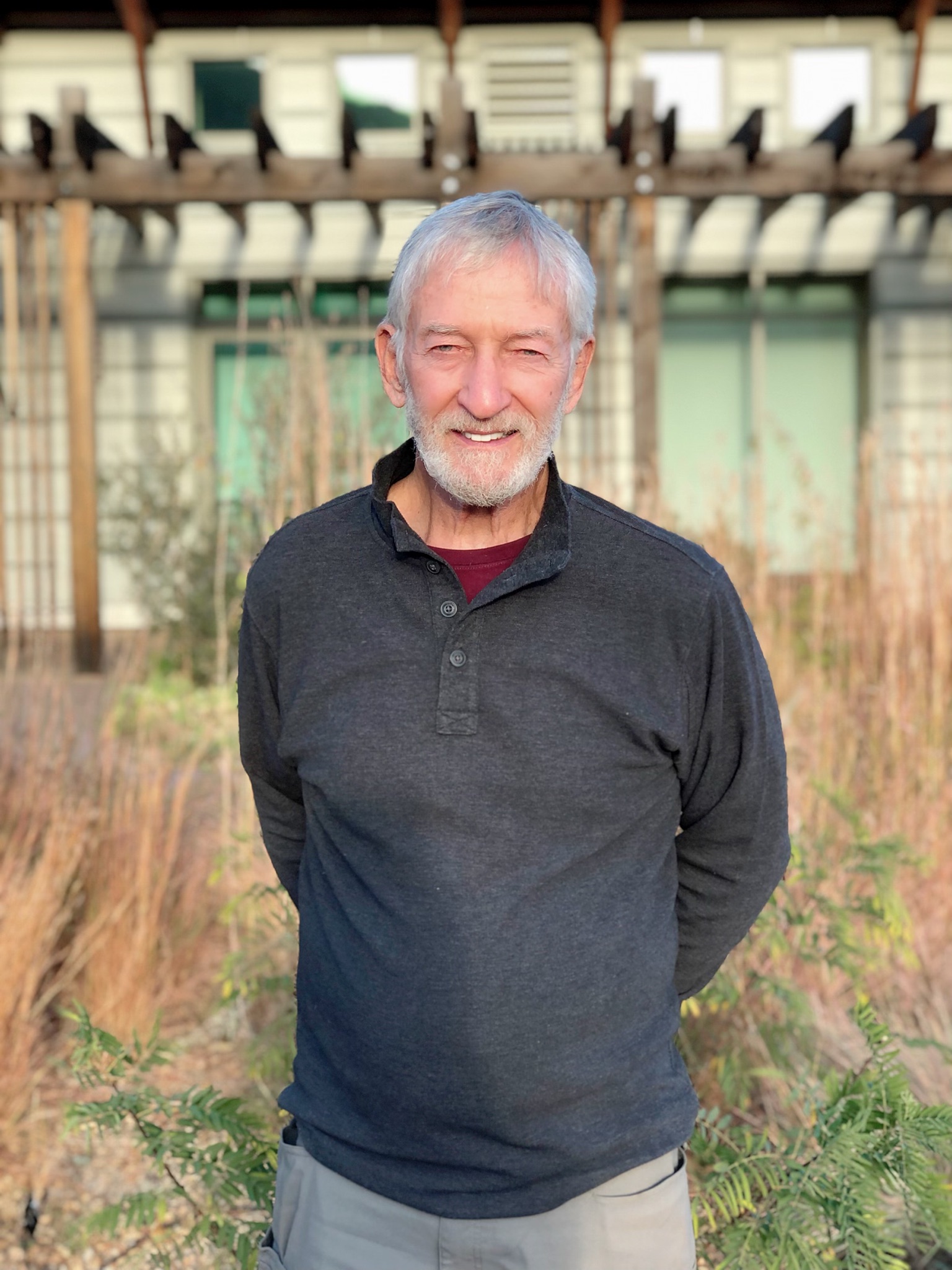 Jack  is a retired teacher who spent 41 years in the education profession, the last 33 years in the Cheyenne Mountain School District as an English and Video Production instructor. Jack came to Colorado in 1972 from the Cleveland, Ohio area. He enjoys hiking, biking, backpacking, cross-country skiing, and snowshoeing.
Realizing that the trails he was enjoying needed someone to take care of them, he volunteered with several organizations including the Volunteer Conservation Corps, The National Forest Service and the National Park Service.
Upon retiring from teaching in 2006, Jack took advantage of the newly opened CMSP as a place to continue his passion for trail work. Initially "just another volunteer," he joined the Friends of Cheyenne Mountain, became a board member, and has been president of the organization since 2011.
He coordinates the park's trail volunteers, and recently began a series of sawyer training classes so he can work with the newly organized Fire Mitigation Program at the park. Jack is also a member of the park's History Committee. Another project was the writing and editing of the Park's Trail Guide, which is a source of revenue for the Friends.
Membership:  Ralph Cadwallader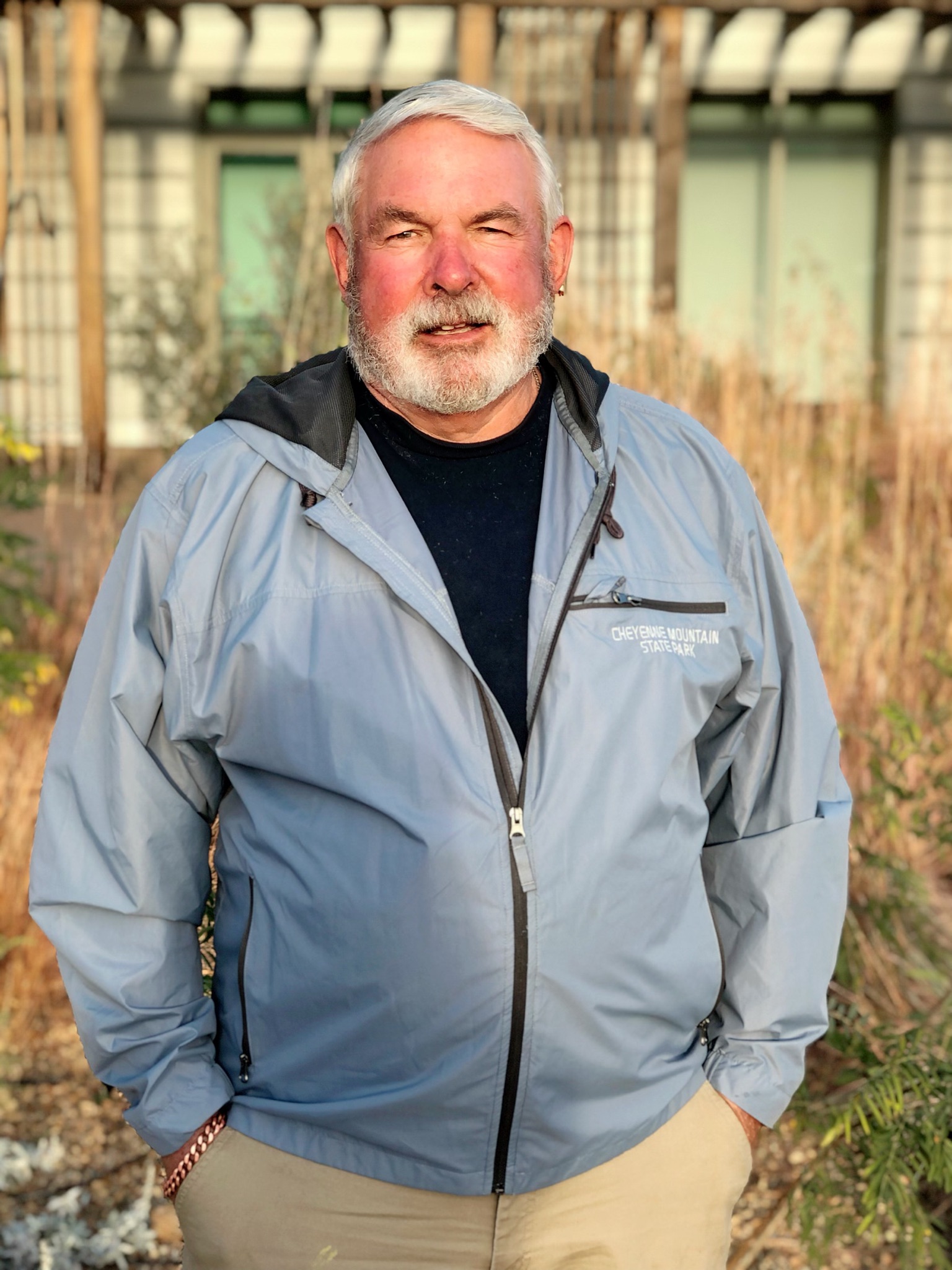 Ralph retired from Evans Army Community Hospital, Fort Carson in 1995. After 4 years working at Hospitals in Denver he began his second career as a Director, Material Services Consulting, Carefusion Corporation, San Diego, CA, retiring from that career in 2012. Living "next door to Cheyenne Mountain State Park" Ralph immediately began his volunteering at Cheyenne Mountain State Park. Ralph's love of the outdoors and his past trail running experiences caused him to begin volunteering as a trail dog maintaining and building trails within the park as well as other parks in Colorado. His interest in fire mitigation caused him volunteer for the park sponsored 2013 sawyer training resulting in becoming a certified sawyer. He now is the crew leader on the very active fuel/fire mitigation crew, actively creating fire breaks with in the park and maintaining past mitigated areas. Ralph has been selected as "Volunteer of the Year" both in 2013 and 2014.
Grant Administrator:  Jennifer Palmes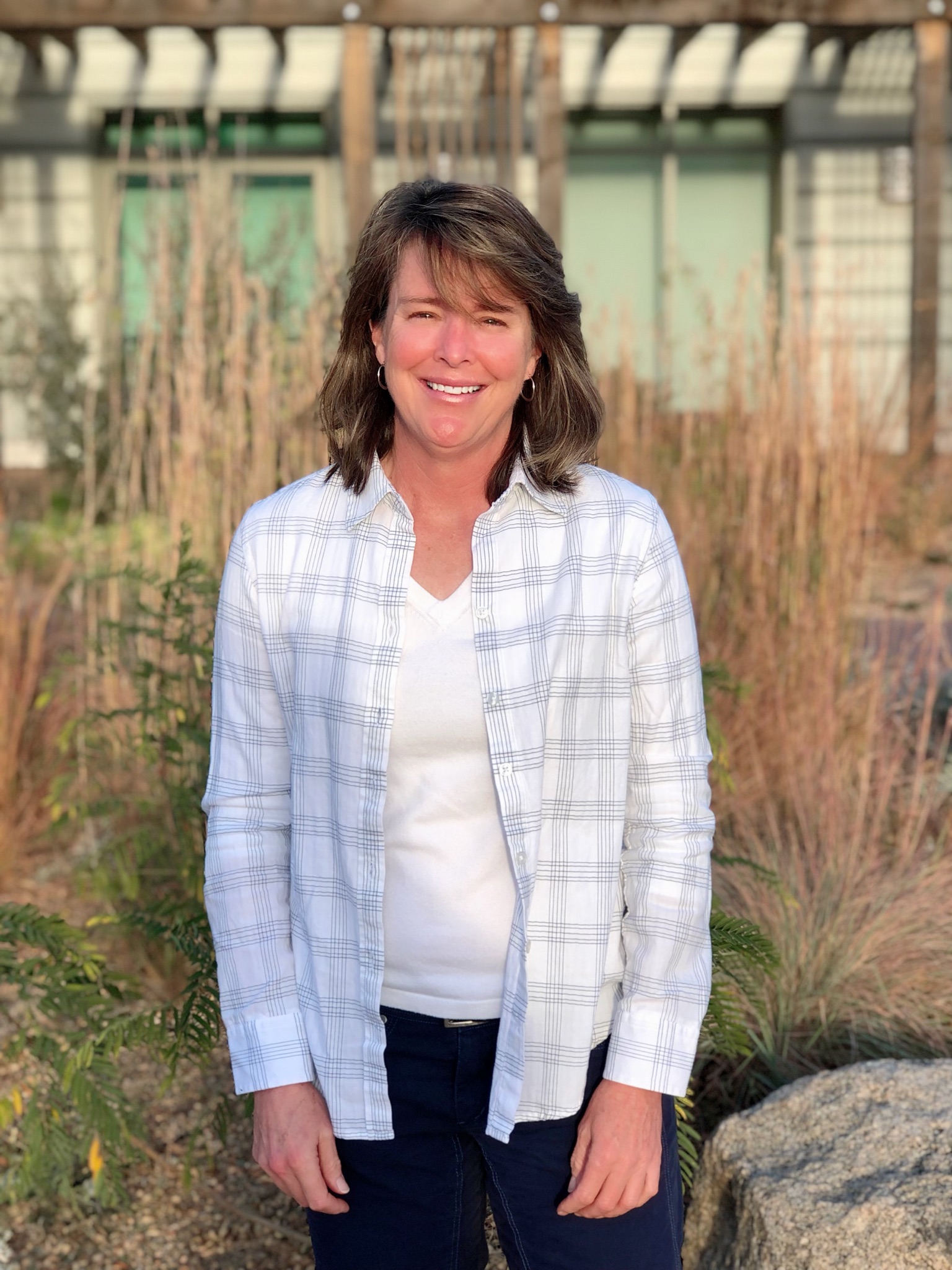 Jennifer is currently a Director for a global cyber security company, and has worked for corporate technology companies for the past 20 year in various leadership roles. Before getting into the high-tech industry she was a High School History/Geography Teacher in the International Baccalaureate Program and she coached sports.  A Colorado native, she grew up loving nature and the outdoors and during her time off she enjoys traveling, camping, hiking and leading electric bike tours through Garden of the Gods. Jennifer is a former CMSP volunteer, she was a member of the history committee, led interpretative hikes in the park and taught boater safety classes to the public.
Board Member:  Bob Falcone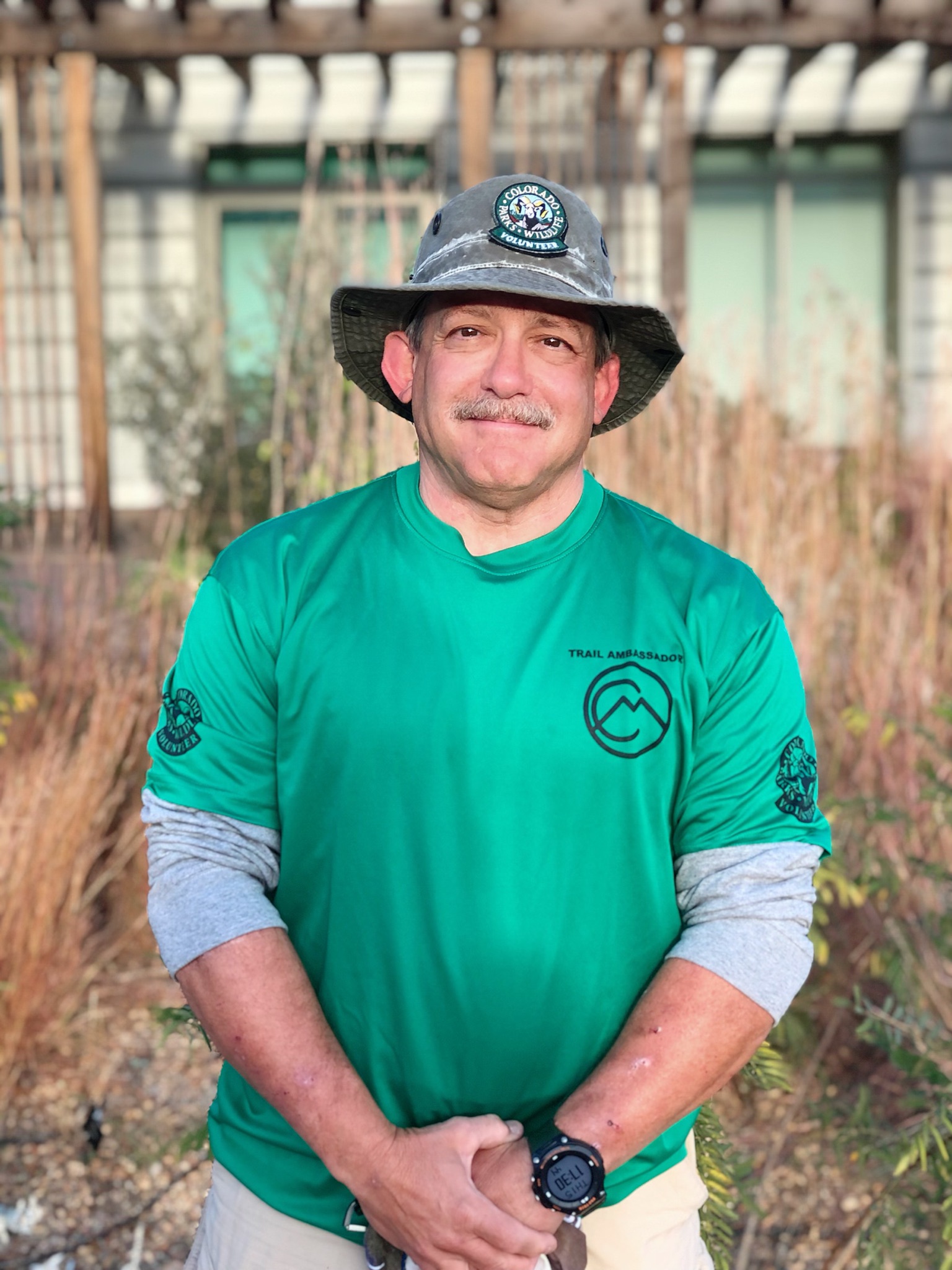 Bob brings a wealth of experience to our team and we are thrilled to be able to tap into his expertise. Bob was the president of the Friends of Cheyenne Canon and a member of the El Paso County Parks Advisory Board for six years, four of which he served as its chair. Bob currently serves on the City of Colorado Springs TOPS Working Committee, is a member of the Trails and Open Space Coalitions Advisory Board and the Pikes Peak Outdoor Recreation Alliance.
Bob also writes a weekly column on outdoor recreation for the Colorado Springs Independent, hosts and produces the weekly "Outdoors with Hiking Bob" podcast, and makes frequent appearances on local TV news broadcasts on topics related to outdoor recreation. He has also led the charge to create the new Trails Ambassador program at Cheyenne Mountain State Park.An author, accomplished photographer, retired career firefighter and Air Force veteran.
Bob has lived with his wife Joanne in Colorado Springs for 29 years. He can often be found hiking somewhere in the Four-Corners Region, usually with his loyal side-kick, Coal the dog.
After taking a break from the Board and semi-retiring, Rick is back!
Rick began volunteering with CMSP before it was a Park. His first volunteer project was to remove over 1 mile of barbed wire in the vicinity of where Sundance and lower Talon trails were eventually built.  Before the Park opened, he led community groups on hikes and introduced them to Park plans that were up for review.  He also worked on all park trails with professional and volunteer trail building organizations prior to and after Park opening.  Currently Rick volunteers with the Trail Dogs, Timber Tigers and Friends projects.  Recently Rick retired for the fourth time! However he is working part time as a healthcare supply chain consultant. In addition to his time volunteering with CMSP, he also volunteers with other outdoor organizations.