President:    Pat Cooper

Pat retired from Banking after working in the field for 28 years: she was an Agriculture Banker for 12 years and then moved into residential Mortgage lending for 16 years.  She was raised on a Ranch in Northern NM and is a graduate of NMSU.  After retiring, she finally had the opportunity to pursue her passion for the outdoors and since has been an active Volunteer at CMSP. Her primary activities in the Park are Native Plants, Bird/Raptor Monitoring and the History Committee. Pat is an avid hiker and has been fortunate to explore many of the local trails.
1st Vice President:    Lori O'Hare
Lori is a retired School Psychologist who began volunteering for State Parks in 1998 at Castlewood Canyon State Park.   When CMSP was on the drawing board, she and her husband Jerry helped start the Friends of Cheyenne Mountain State Park in 2002.  It was exciting to see the park built from the ground up.  After serving as the Secretary for many years, she became Vice President in 2011.  She enjoys doing special events and trail hosting at the park.
Treasurer:  David Barcus
Directors:
Past-President:  Jack Busher
Jack  is a retired teacher who spent 41 years in the education profession, the last 33 years in the Cheyenne Mountain School District as an English and Video Production instructor. Jack came to Colorado in 1972 from the Cleveland, Ohio area. He enjoys hiking, biking, backpacking, cross-country skiing, and snowshoeing.
Realizing that the trails he was enjoying needed someone to take care of them, he volunteered with several organizations including the Volunteer Conservation Corps, The National Forest Service and the National Park Service.
Upon retiring from teaching in 2006, Jack took advantage of the newly opened CMSP as a place to continue his passion for trail work. Initially "just another volunteer," he joined the Friends of Cheyenne Mountain, became a board member, and has been president of the organization since 2011.
He coordinates the park's trail volunteers, and recently began a series of sawyer training classes so he can work with the newly organized Fire Mitigation Program at the park. Jack is also a member of the park's History Committee. Another project was the writing and editing of the Park's Trail Guide, which is a source of revenue for the Friends.
Membership:  Ralph Cadwallader
Ralph retired from Evans Army Community Hospital, Fort Carson in 1995. After 4 years working in Hospitals in Denver he began his second career as a Director, Material Services Consulting, Carefusion Corporation, San Diego, CA, retiring from that career in 2012. Living "next door to Cheyenne Mountain State Park" Ralph immediately began his volunteering at Cheyenne Mountain State Park. Ralph's love of the outdoors and his past trail running experiences caused him to begin volunteering as a trail dog maintaining and building trails within the park as well as other parks in Colorado. His interest in fire mitigation caused him volunteer for the park sponsored 2013 sawyer training resulting in becoming a certified sawyer. He now is the crew leader on the very active fuel/fire mitigation crew, actively creating fire breaks with in the park and maintaining past mitigated areas. Ralph has been selected as "Volunteer of the Year" both in 2013 and 2014.
Newsletter:  Jean Danforth
Events:  Abbie Burke
Board Member:  Warren Pierce
Board Member:  Joy Hellmann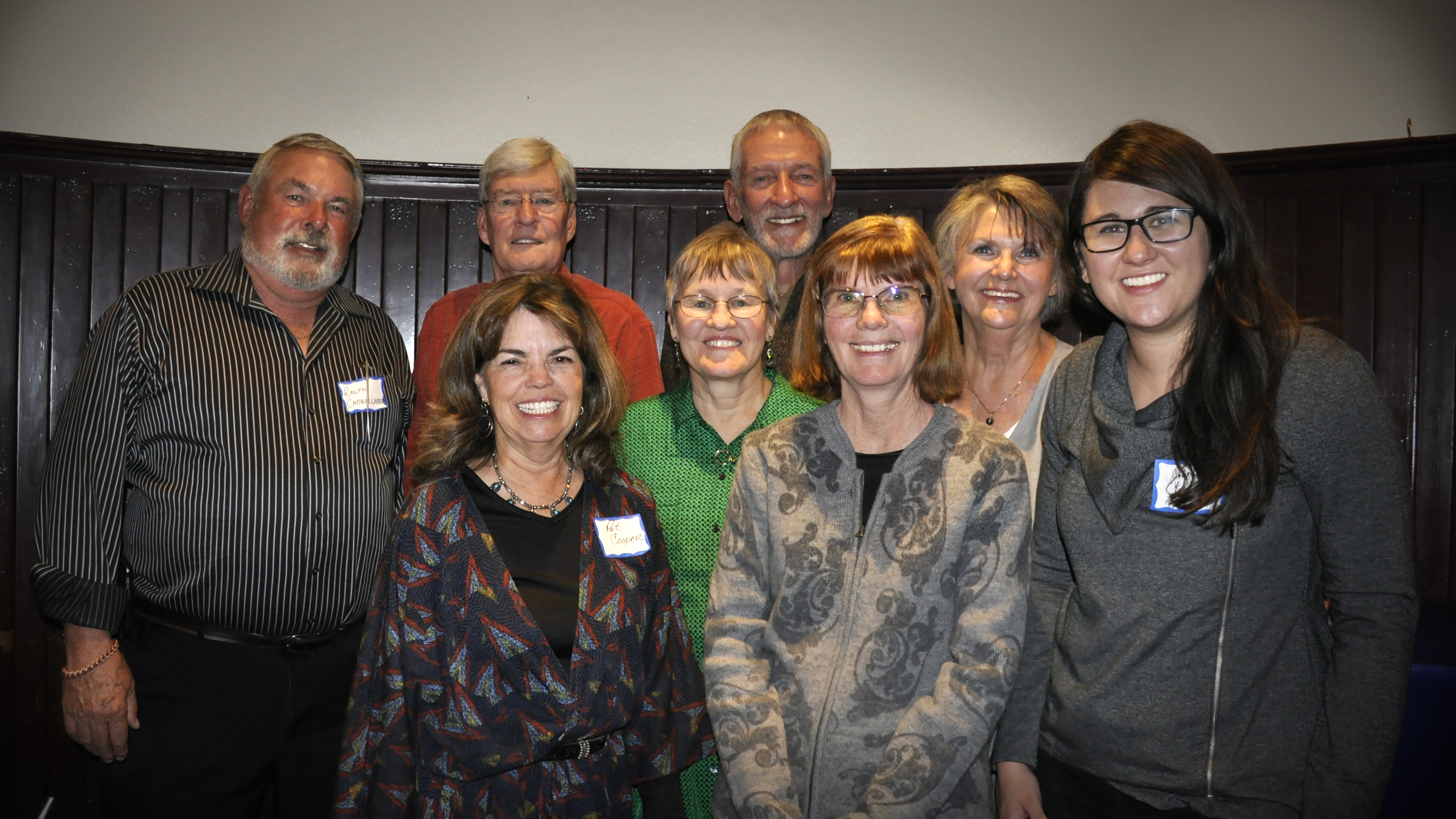 2017 Board of Directors-L to R Front row Pat Cooper, Jean Danforth, Lori O'Hare, Joy Hellmann, Courtney Yourself, Back row- Ralph Cadwallader, Warren Pierce and Jack Busher.