Please join us for Wildflower Wednesday, where we will hunt for and discuss "what is blooming" on various trails in the park.
Presented by the Wild Flower Team: Pat Cooper and Beatrice Trezevant
DATES/TIME:
April 26 –Completed
May 24 Completed
June 21
July 19
Aug 23
9:00 AM – 11:00 AM
Please wear closed toe shoes, and bring water, sunscreen and a camera (if you like).
Space is limited to 15 people and registration is required through the link below.
This is a popular hike, so we keep a waiting list. If you sign up and later find out that you cannot make it, please cancel your reservation so that someone else can have a spot.
Cancellations, if they happen, will be via email… so check your messages before the hike to make sure it has not been changed.
The hike is free, but a valid park pass is required on all vehicles that enter the park. Passes may be purchased at the Visitor Center.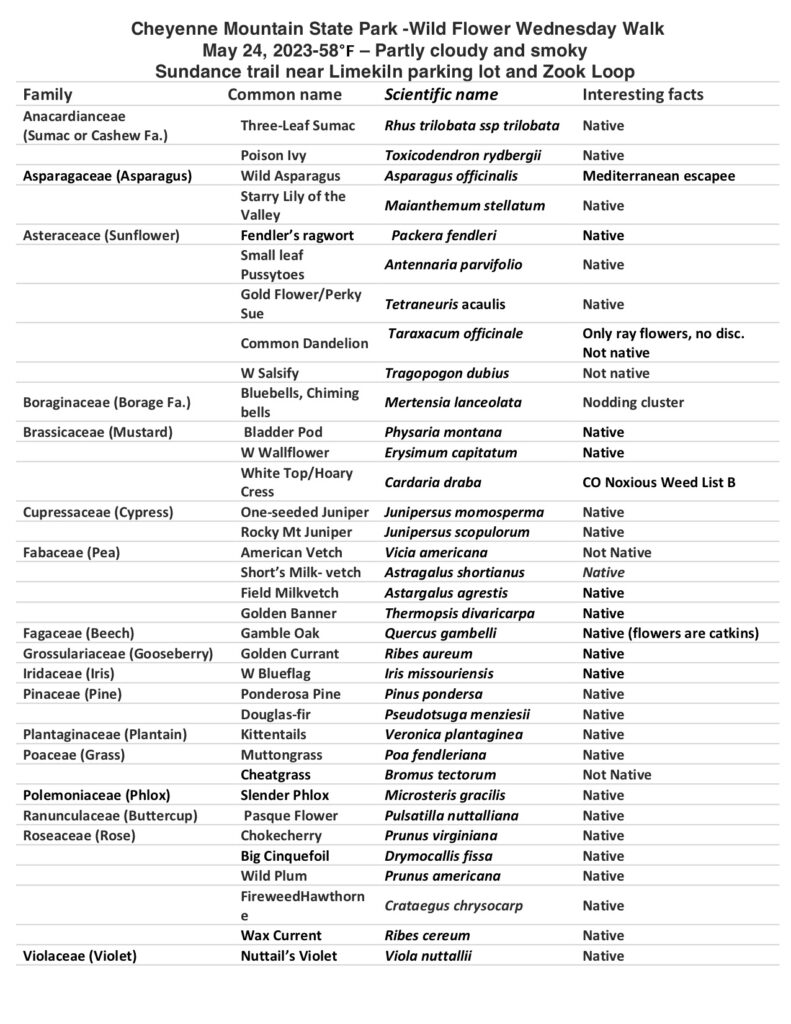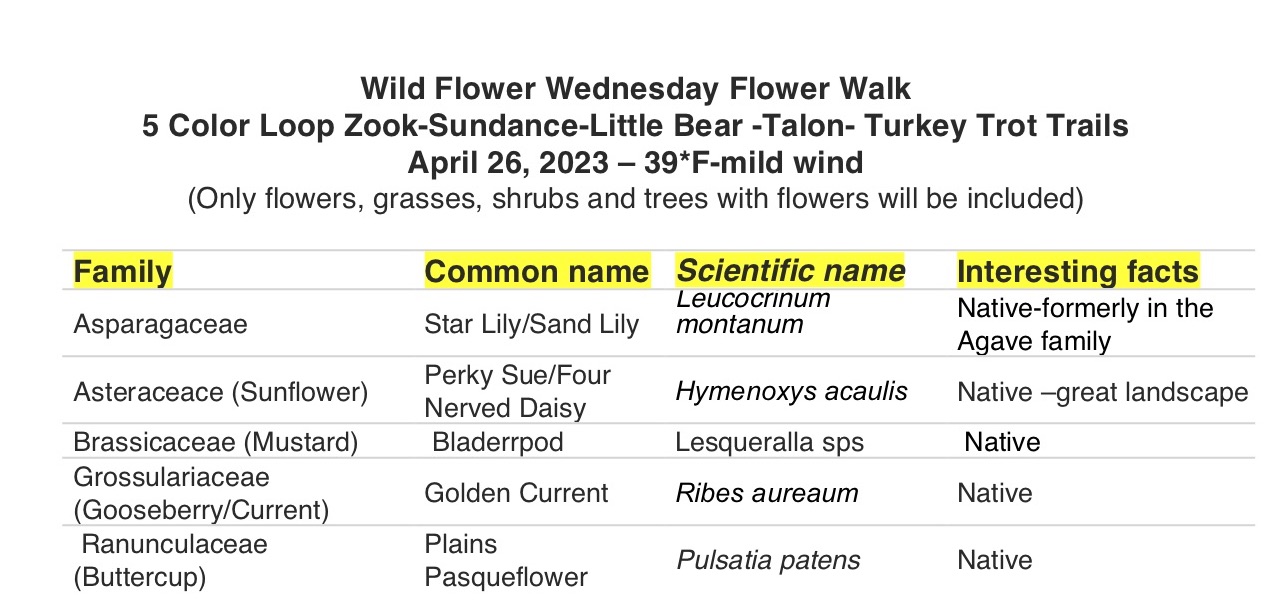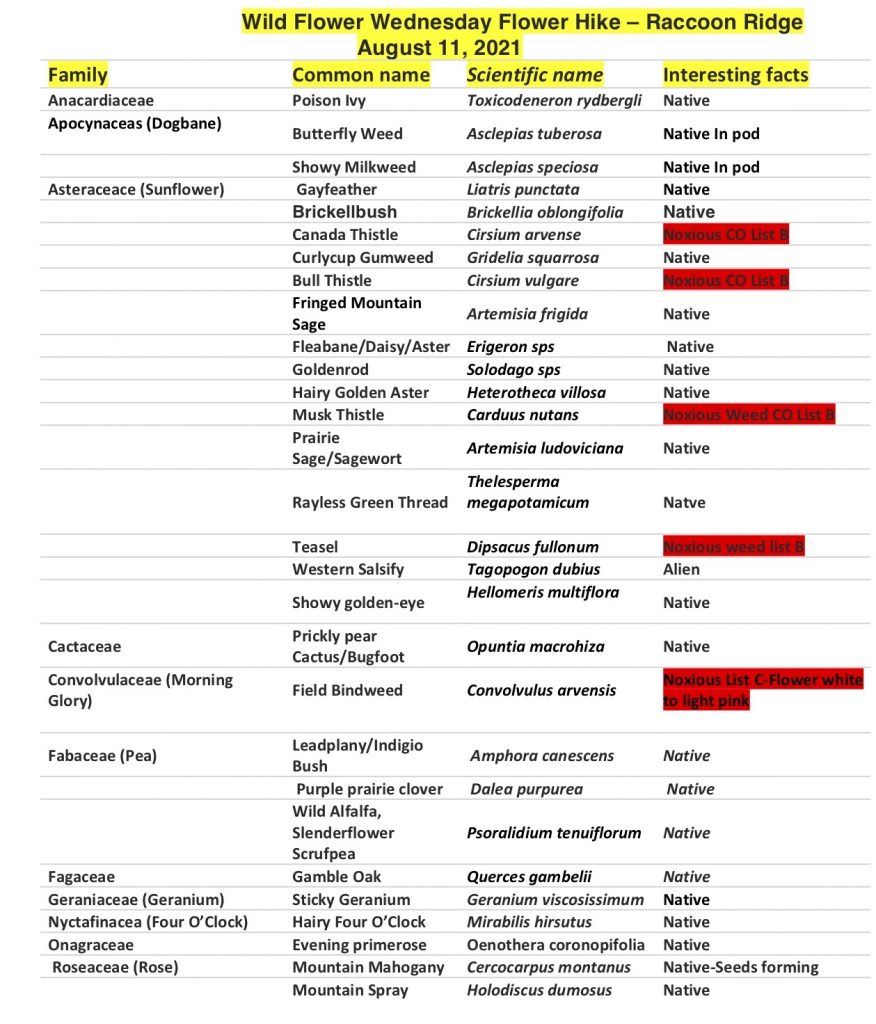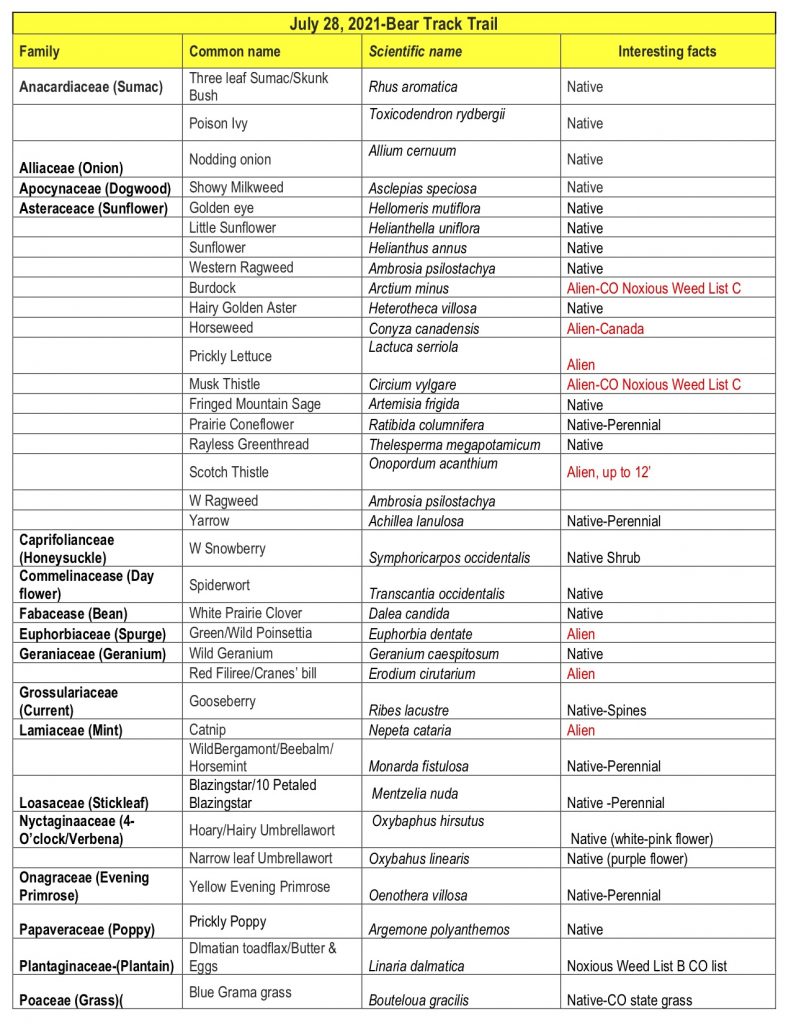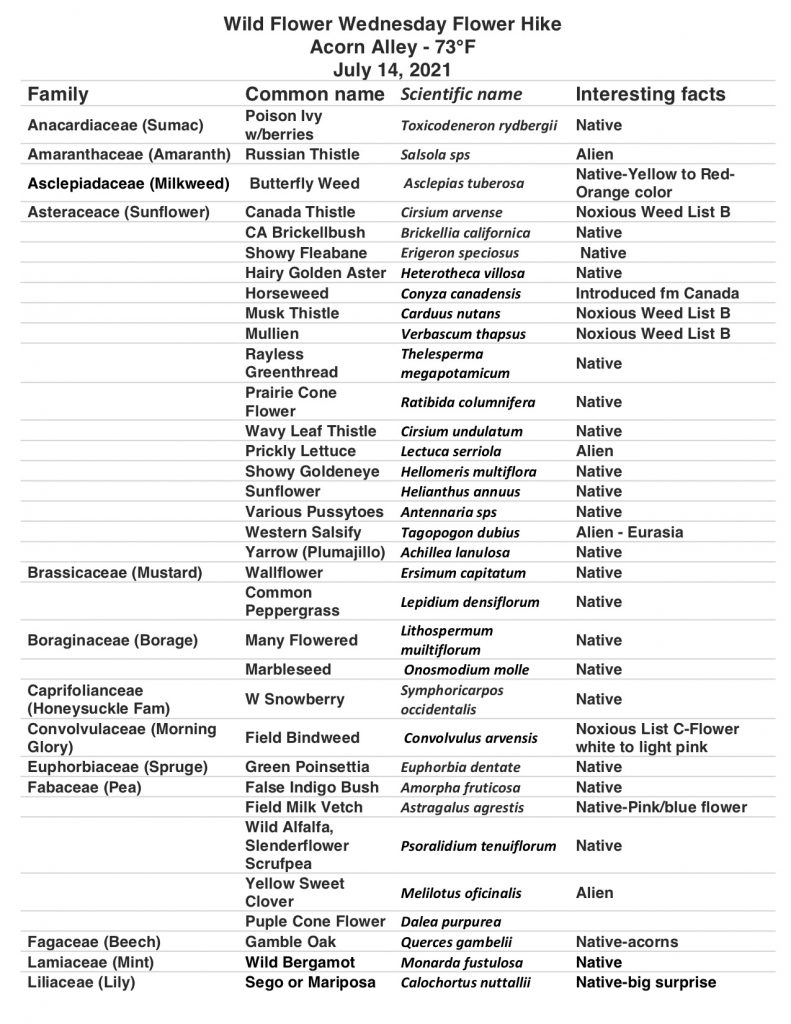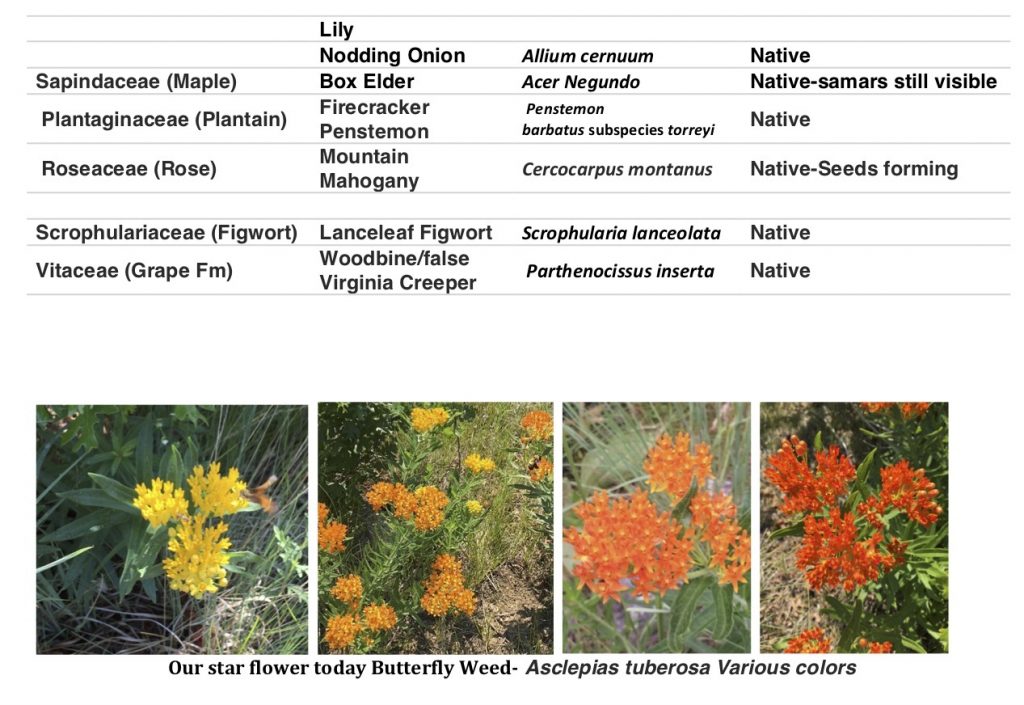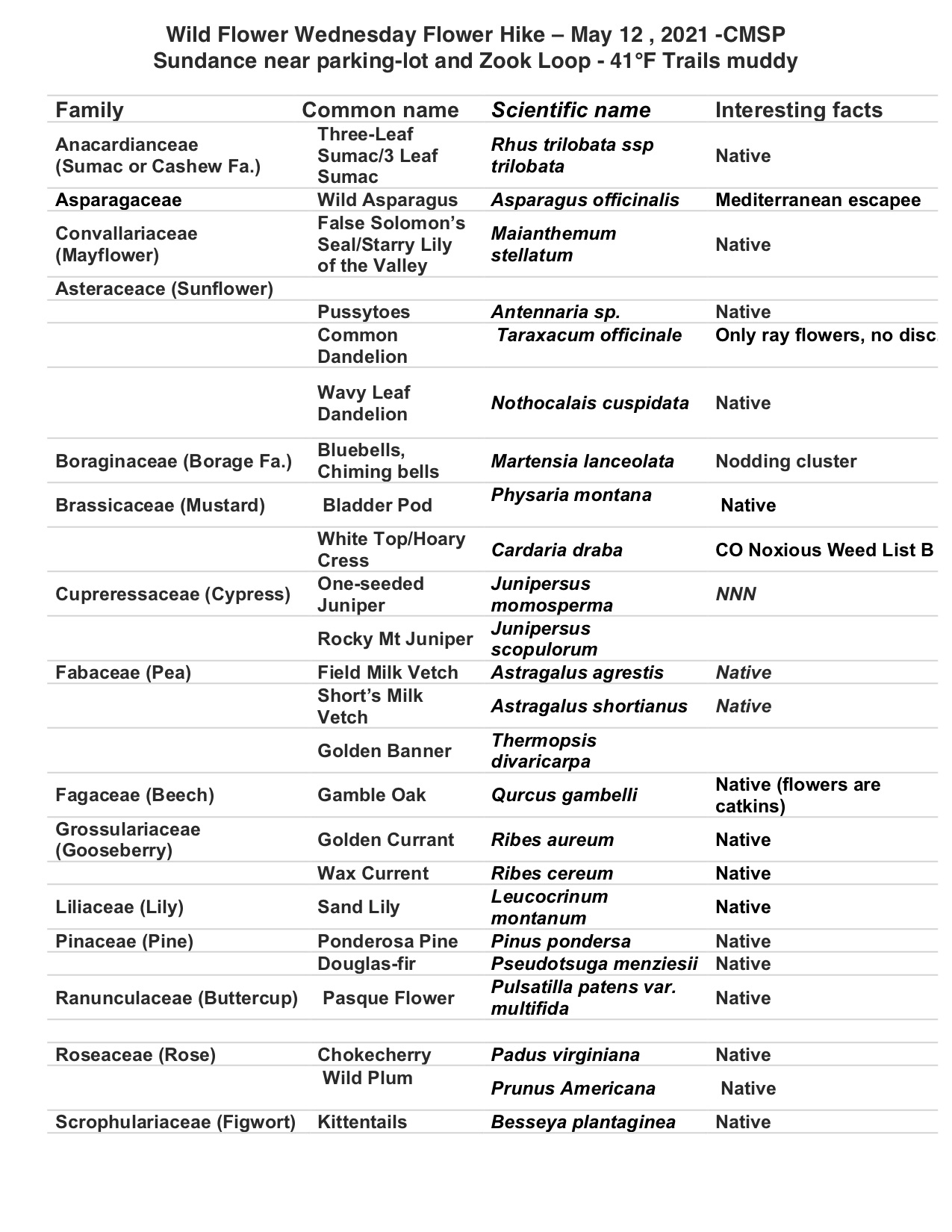 Helpful smartphone apps:
iNatualist
Colorado Wildflowers
Wildflowers of the Western Plains-Earthrover Software
Colorado Rocky Mountain Wildflowers-High Country Apps
Colorado Weed ID-Colorado Dept of Agriculture
Native Plant Sources:
Phelan Gardens https://phelangardens.com
High Plains Environmental Center in Loveland
CONPS springs plant sale, regional plant swaps and seed swaps.
Horticultural Arts Society spring plant sale
Good Earth Garden Center
Harlequin's Garden in Boulder
https://www.westernnativeseed.com
https://www.coloradohardyplants.com/
https://csfs.colostate.edu/seedling-tree-nursery/
General Information:
CoNPS Low-Water Native Plants for Pollinators https://drive.google.com/file/d/1CGZzdo0chyd1nsi5Oni8QBZcblwKLqor/view?usp=sharing CoNPS Gardening with Native Plants https://conps.org/home-2/resources/gardening-with-native-plants/ Native Shrubs for Colorado Landscapes (CSU) https://extension.colostate.edu/topic-areas/yard-garden/native-shrubs-for-colorado-landscapes-7-422/