The Cheyenne Mountain Run – Oct 12, 2019

Heavy Half Marathon:  Start Time 9:00 AM

In analyzing your feedback after last years race, we are making changes and the volunteer trail crew  has already started  improving the Dixon Trail to the top of Cheyenne Mountain.
The heavy-half marathon race will be approximately 14 miles. Starting elevation at Limekiln parking lot is 6,060' and the turn around elevation is approximately 9,050'. Therefore approximately 3,000 gain and loss.    The turnaround at the top of Cheyenne Mountain is remote and access is limited by a very rough 4 wheel drive road that is not open to the public. The exact turn around point will be posted as soon as we can access the top of the mountain and test equipment.
The  heavy half marathon will start at the Limekiln parking lot west of the entrance to the state park and entrance fee gate. The race course heads west on the Talon Trail, turns onto North Talon, at about 3.3 miles onto the Dixon Trail and finally .3 miles on the  Mountain Loop .  The Dixon Trail and Mountain Loop  are on a single track that gains about 2,100 feet of elevation on the way to the turnaround. Portions of the Dixon Trail arein the process of continuous construction this summer and you will see notable changes since 2018.  The total uphill distance is approximately 7 miles. The downhill portion of the race returns on the same course to the Limekiln Trailhead start and finish line.
Due to the safety of both runners and volunteers, a CUT-OFF TIME of 1 PM to reach the turnaround around will be instituted. The timing station will be closed at 1:00 PM participants who have not reached the station by this time will be direct by course marshals to turnaround and head back down the trail.
Water stop locations: 1. Talon/Sundance juncture 2. Talon/N Talon juncture 3. Lower Dixon Tail 4.Turn around point on Dixon Trail. Runners are encouraged to carry their own water and be prepared for weather changes.  Course will be out and back.  The only access to runners will be back down the Dixon Trail and returning to the Limekiln parking lot. All water stops will have plenty of water and the water stop #4 will also have food. 
 The safety of our participants and volunteers is our highest priority!
3M+/- Trail Run:  Start Time 9:30 AM
From the Limekiln parking lot it will follow the Talon trail to the Sundance trail junction at about 1.5 miles. The 3 Mile race will turn right onto the Sundance trail and return to the finish at the Limekiln trailhead. This is a loop course with one water stop at the Talon/ Sundance junction.
Enlarge by clicking on maps or pdf below documents. PDF format is better for printing.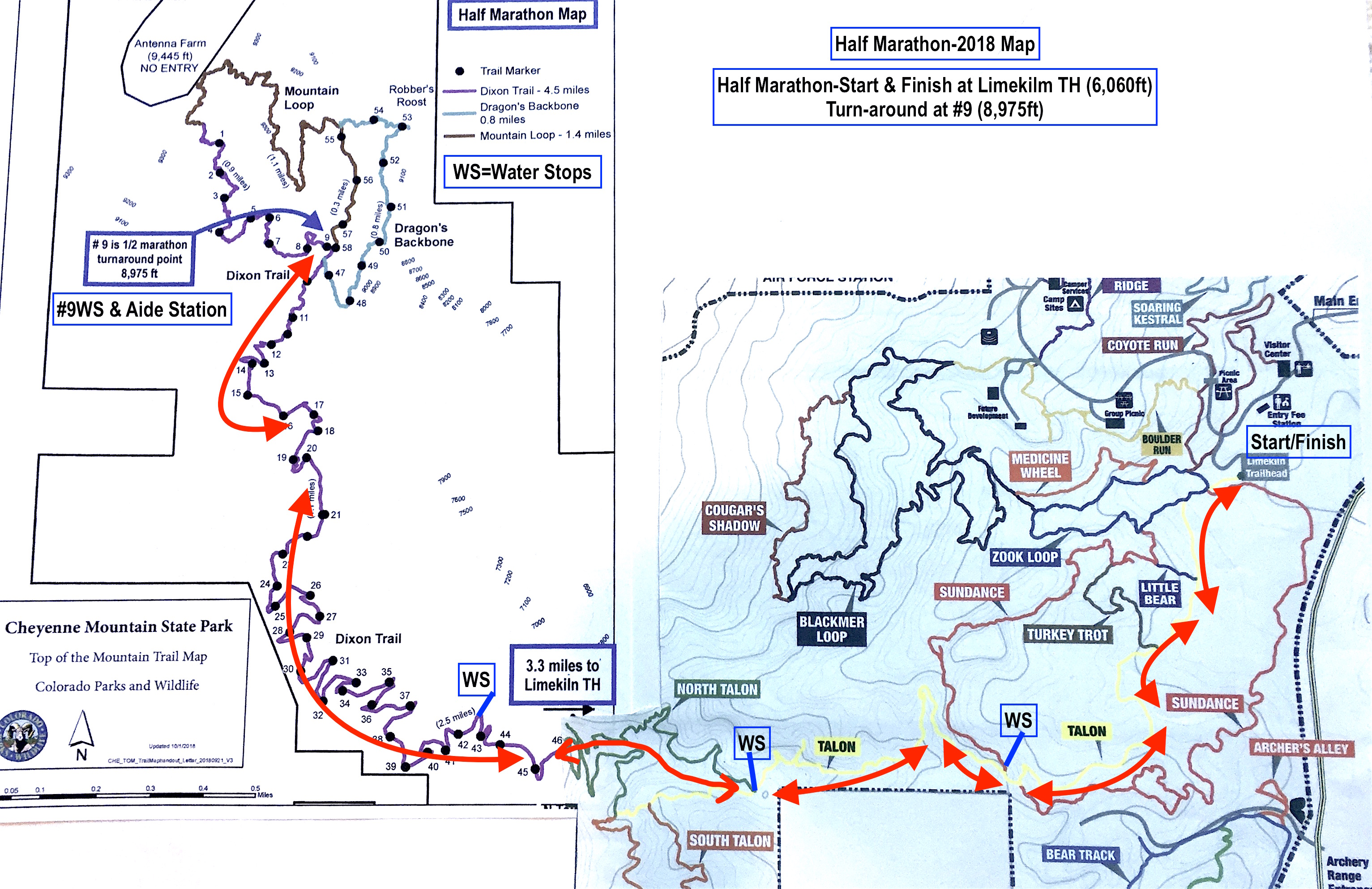 This MAP will be updated after the trials on top Cheyenne Mountain are accessible.