Welcome to "The Cheyenne Mountain Run" 3M and half marathon Trail Race
 For registration by mail, please print, complete and mail the form below.  Registration by mail will cease Oct 17, 2018, so please mail your forms in timely.
Questions:  friendsofcmsp@gmail.com
Note: Preview before printing, you may need to adjust size to print on a single page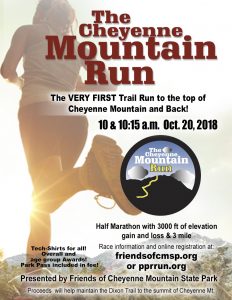 CMR 18 Flyer front for printing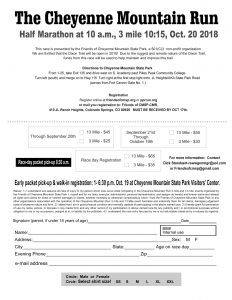 Flyer Back for printing
                       Please mail to:   The Cheyenne Mountain Run
                                                   Cheyenne Mountain State Park
                                                   410 JL Ranch Heights
Colorado Springs, CO 80926

Register forms can be dropped off at Cheyenne Mountain State Park-Visitor Center during normal business hours, 9:00 AM to 4:00 PM daily.
Package pick up will be on Oct 19, 2018 from 1:00 PM to 6:30 PM at CMSP.  On site Registration will also be available during package pick-up hours.