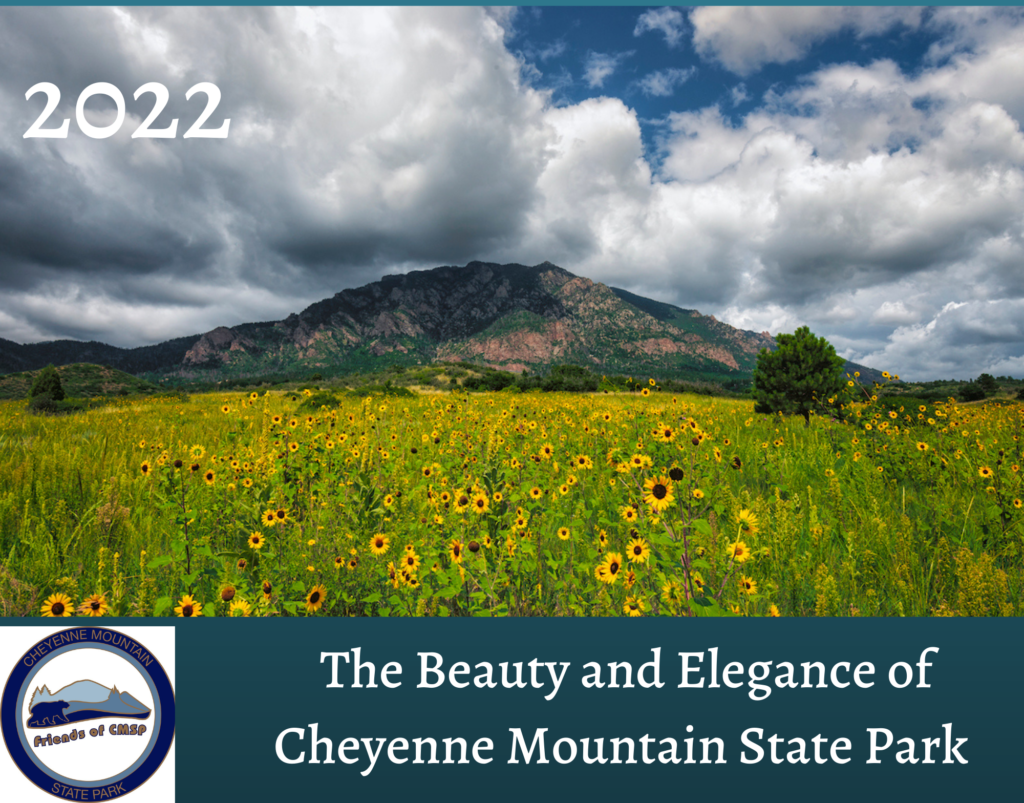 Photo Calendar Contest 2022
Theme: Beauty & Spirit of Cheyenne Mountain State Park
All entries will be considered for publication in the Friends of Cheyenne Mountain State Park (FofCMSP) 2023 calendar. Entries must be received by 5:00 PM October 31st, 2022. Winning entries will be announced on November 15, 2022.
Details and entry fee:
The contest is open to the public and to amateur and professional photographers.
Cost per photo entered is $5.00, youth (14 yr. olds and younger) are free.
Entries are limited to three (3) per person.
Please mail your check to: Friends of CMSP, 410 JL Ranch Heights, Colorado Springs, CO 80926 OR drop your check off at the Visitor Center between the hours of 9:00 AM and 4:00 PM daily. (410 JL Ranch Heights, Colorado Springs, CO 80926)
Photos must have been taken in Cheyenne Mountain State Park (CMSP).
Photos may be of any subject matter that portrays the beauty and essence of CMSP.
Any entry deemed to be inappropriate for any reason will be rejected.
Pictures taken may include people, but permission to use their image or likeness must be guaranteed by, and is the sole responsibility, of the photographer. (Release form below)
All photos must be original and taken by the submitting entrant.
Photos must be in horizontal (landscape) orientation only. Photos taken in vertical orientation will be rejected.
All entries must be submitted as digital files in JPEG format, and be at least 300dpi, and of a size capable of being clearly printed to 8″X10″
Releases and entry that cannot be verified for authenticity, including missing, incomplete or incorrect contact information may result in disqualification. If handwriting the form please insure we can read the information.
By entering, the submitter grants the FofCMSP, CMSP, Colorado Parks and Wildlife (CPW), non-exclusive rights for use as, but not limited to, advertising, promotion, recruitment and editorial uses. The photographer shall retain all other rights to their images.
All decisions by the judges are final.
Submitting photos:
Entries must be submitted in digital format.
The digital copy can be emailed to
friendsofcmsp@gmail.com or can be on a CD accompanying the entry information.
Each entry must include: 1. Month photo was taken, 2. Entrants name. 3. Entrants email and best contact number. 4. Please note if entrant is a youth.
Use of Photos:
All photo entries (digital and print) become the property of FofCMSP, CMSP and CPW.
Contestants grant FofCMSP, CMSP and CPW unlimited usage and unrestricted rights of any photograph submitted for the contest regardless of whether or not it is a winning entry.
FofCMSP, CMSP and CPW reserve the right to use the photos in printed or on-line materials and for educational informational and promotional purposes without paying compensation to the photographers or the subjects. Photos used will credit the photographer unless otherwise requested by the entrant.
Judging:
FofCMSP will select three judges (not involved in facilitation of the contest) to judge all entries. It is a blind judging process and judges will not know who the photographers are. The public or entrants will not be allowed during the judging process.
Winners will be announced November 15, 2021. Winners will be contacted using the information provided on the entry form.
If for any reason the contest is not capable of being conducted as planned, including any causes beyond the control of the administrators of the contest, Friends of CMSP reserves the right, at its sole discretion to cancel, modify, suspend or terminate the contest without notice to the entrants and retain all photo entries.
Prizes:
Thirteen photos will be selected as the winners and will be used in the FofCMSP 2023 Calendar.